You've probably heard the saying, "One man's trash is another man's treasure". This latest mandala is made almost entirely from "one man's trash"!
One of my workplaces have a large laser cutter which collects quantities of leftover bits from the work that people do on it. This mandala is created from some of those leftover bits, stuck to a circle cut from an old cardboard box with pva glue.
I couldn't decide whether to leave it the original colour, or whether to paint it, so I tried adding some digital colour to help me make up my mind.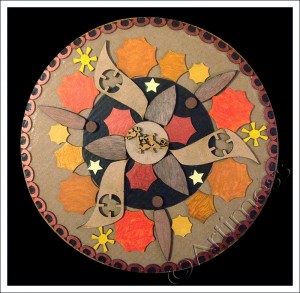 I decided to paint it and this is the result. Which do you like the best?