We're almost there! Today we got the keys to our new house and took the first few bits down in the car; tomorrow the removal men move all our belongings and we get to sleep in our new home for the first time!!
It's especially exciting for us because it will be the first unfurnished house that Bry and I have had the fun of furnishing together. Today we went out and ordered our refrigerator which will be delivered on Saturday, and over the weekend we get to go shopping for beds and sofas!
I'm really looking forward to furnishing my new studio space. It's only a tiny room ( about 7′ square) but it's just perfect for me. I've already seen a perfect storage unit for my paint – this kitchen trolley from Ikea.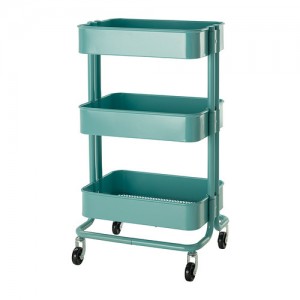 Effy was blogging about her one the other day and I fell totally in love – so that's at the top of my list. I haven't decided on anything else yet, but I'll post progress pictures as it develops! Keep watching this space!