We're over halfway through the void now, and the mandalas are still flowing. Journalling with words doesn't come easily to me – I prefer to express my thoughts in visual ways…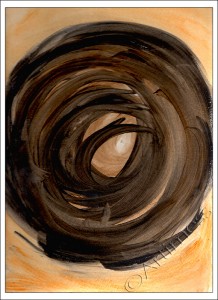 …so I've been up in my studio for a while today responding to my thoughts. This is my first completed mandala painted with very wet acrylic paint in my mandala journal.
There are two more in process…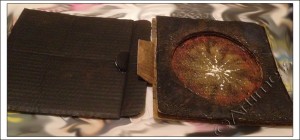 …this one is made with recycled cardboard, acrylic paint and crackle paint – the crackle paint is taking a long time to dry…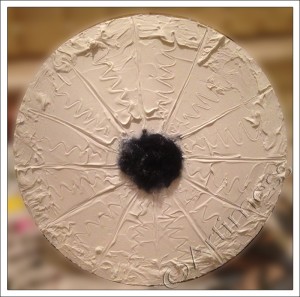 …and this one is made from a cardboard disc and moulding paste. It too is in the process of drying, and I will be painting it once the moulding paste has properly hardened. I'll post more pictures of these when they're finished.

Ever since I can remember I have always believed in the interconnectedness of everything. So when I came across this Pueblo Indian saying in Way of the Doll: Art and Craft of Personal Transformation
by Cassandra Light, I couldn't help but feel a journal page needed to be created.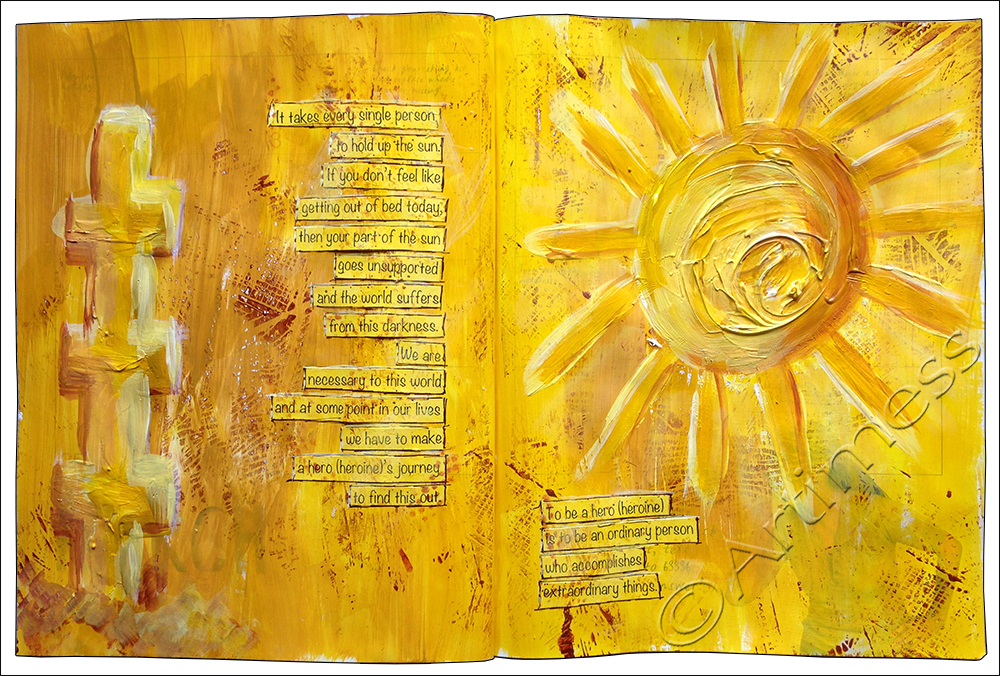 I decided to use my recycled journal, and created this double page spread using acrylic paint, moulding paste and a linocut stamp. I added the quotation by cutting up a digital printout of it, glueing it down then adding paint, stamping and permanent marker to help it to blend into the page. Did I mention that I printed it on yellow paper?
And talking of blending…
…I just couldn't resist the digital kind!

Did I mention that I am becoming addicted to doll making? This one's taking a bit longer than the others have, and she's still not quite finished, but I thought you might like to see her anyway.
The pattern came from Elinor Peace Bailey's book Mother Plays With Dolls … and Finds an Important Key to Unlocking Creativity
. It's a generic pattern which can be adapted to make any number of variations – there are some amazing examples in the book. I stuck pretty much to the basic pattern, but wanted to add some wool hair. I searched online for some tutorials and finished up using a combination of these two tutorials: this one from Gillian Wynn Grimm at Dried Figs and Wooden Spools; and this one from Gillian Austin at Astableulah. I haven't decided whether to paint or embroider her face, and I may add some other bits and pieces while I'm at it, but I'll post another picture when she's finally finished.
In between playing with dolls, I've also been playing with paint.
I started off with some recycled cardboard and a double page spread from a newspaper, added some blobs of moulding paste then swirled them about. I added acrylic paint, acrylic ink and spray paint to the mix, then left it all to dry. But that wasn't the end! After scanning it I had to play digital blending…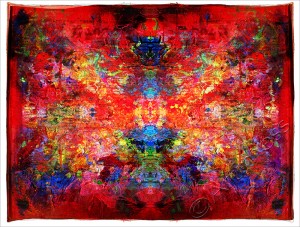 …I thought this one was quite nice, but then I thought I'd try inverting the colours…
…and came up with this which I rather like. What do you think?

Following on from yesterday's success, I've managed to create another journal page using the scanned digital technique. Yay!
This is the background I created in my altered journal using acrylic paint, home made stamps and stencils.
And this is my digital interpretation of todays 'When Frogs Sing' journal prompt.
I finally got around to processing the second of my recycled cardboard paintings from the other day. I created it using acrylic Paint, acrylic ink, stencils and moulding paste.
You can't really see the relief on the big picture so I took a couple of detail pictures to show it off. It makes a lovely textured surface – I really love texture!
And you know what – I haven't played blending for ages! So I just had to try a little blend here! I really like how this one turned out. What do you think?