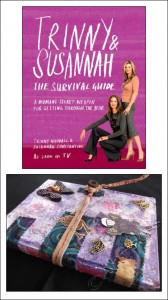 Ever since I saw Rae Missigman's 'Go Green' class on 21 Secrets 2013 I have been longing to have a go at making a recycled journal following her instructions. I have been an avid recycler for many years and have made use of many books in art projects, but I have never before taken one apart and reconstructed it, so this was a new adventure for me! My first step was a trip to my local Charity Shop to find a suitable hard back book to turn into my journal. These are the before and after pics!.
As usual I couldn't quite bring myself to follow all the instructions…
… plus I didn't have all the recommended ingredients, so I improvised a bit! The biggest change I made was to the binding. Because I had 7 signatures and my pages were quite heavy, I thought it better to use a different binding format to the one Rae taught. I used this brilliant tutorial from Sarah to learn how to do the binding the way I wanted.
But I digress! Having chosen and purchased my book for the princely sum of £1, the first task was to very carefully take it apart, removing all the signatures. Next came the fun part of decorating the cover, followed by the much trickier part of reassembling it into a book again! I started the decorating process with lots of layers of gesso, clean and painty tissues, and coloured inks dripped and sprayed. Once I was happy with that I added some scraps of material which I machine stitched very carefully to the cover – I only broke one needle in the process! Then came the embellishments which I added using hot glue and a material wrap to keep it closed. I am always envious of my American peers who seem to be able to purchase waxed bookbinding thread in assorted colours quite easily. I always end up waxing my own thread – and getting melted wax all over my cooker! With most of the book pages safely restitched within the covers I moved to inside the book.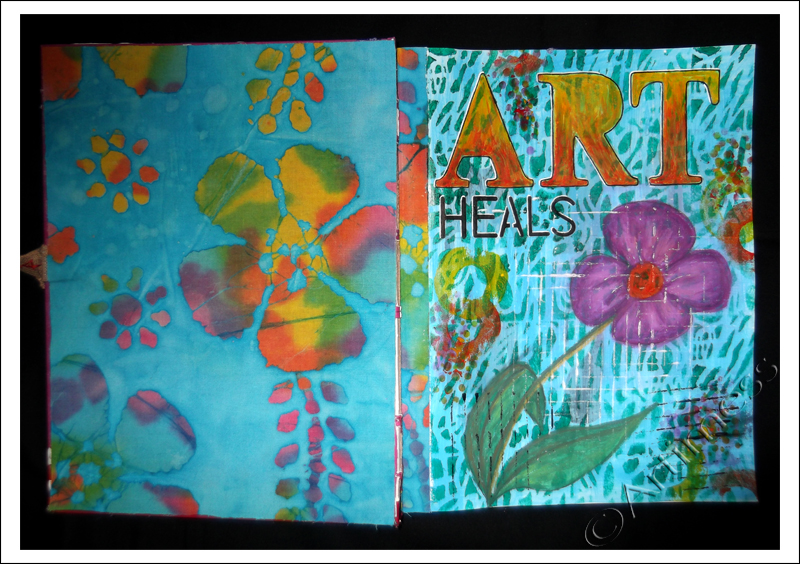 I covered the inside of the covers back and front with fabric which I stuck in using iron on fabric glue, then set to work creating a title page for the book. I started off with a layer of gesso, then added several layers of acrylic paint using a mixture of stencils and assorted stamping implements. I used letter stencils to create the titles and neocolour crayons to draw the flower.
I'm really pleased with the way the book has turned out and can't wait to work on some more pages! Thank you Rae for a really inspiring Class.

Yes, I have definitely got the Quirky Bird Bug – I can't seem to stop drawing them!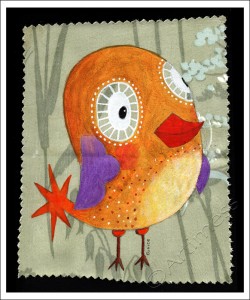 This time I decided to try painting one on material. I primed the material using clear gesso then painted the bird using a mixture of acrylic paint and neocolour crayons exactly the same way I did on the paper. I'm really pleased with how it turned out – I love the way the pattern on the material shows through in places under the paint.
Drawing birds has kept me from finishing my latest zentangle canvas, but today I finally finished it – number five in the series!
I decided to try drawing with some Pitt artist pens as the unipin pen nibs were wearing out so quickly! The Pitt pens are lovely and very waterproof, but I think it must be drawing on the canvas – they're wearing down too! As before, I used the luscious Twinkling H2O's to add colour to the image.
Maybe some mixed media paint splashing will cure me of the Quirky Bird Bug – keep watching this space!

I have managed to get behind with virtually all my self-imposed deadlines at the moment, so I have decided to be very brave, not to even try playing catch up, but just to do the things I feel drawn to! So… today I finished last Friday's assignment from Carolyn Dube's Use Your Words workshop. This is such a cool workshop!
The first part of the assignment was to create a background sheet for cutting up. I used homemade letter stencils, white gesso, an Artist Cellar letter stencil, and gel medium. After I scanned it, I cut it up into five pieces.
The second part was to create a journal page incorporating a collage made using a piece cut from the background sheet. My collage is made up of a hand cut tag painted with acrylic paint, the piece of background sheet, two scraps of material, some paper lace painted with acrylic paint, and a bird cut from foam and coloured using acrylic paint. The words were added using a uniball eye pen – which is supposed to be waterproof – but as you can plainly see, didn't survive the background sprays without joining in the colour runs! (the sprays were ink and twinkling H2O's). But I wasn't too upset as I think the runs just add to the feeling of movement on the right hand page. What do you think?

Once or twice a year I make myself a new notebook. My notebooks are a cross between a diary, an art journal, a planner, a message book and a reference book. Basically, everything I do every day is recorded in some way, shape, or form in my notebook. Because I'm a visual person, I like my pages to be different colours and unlined so that I have freedom to use the pages any way that suits what I'm doing. Today I made myself a new notebook as my old one has only 18 pages left!
It took a little longer than usual as I had trouble finding the right grade of chipboard to be thick enough for the covers but thin enough to fit into my binding machine. I made one set of covers before realising that they were just a tad too thick! Luckily I had enough material to make two sets of covers!
What you can't see from the photo is the diversity of the pages. I used 13 different colours of paper (including black and white) and made up 12 segments of the colours giving me a total of 156 pages!
Now that it's finished, I can't wait to start using it!

Last weeks life book lesson with Tam was to create a mixed media collage using paper and material celebrating where you are now using no more than two words. I love working with material, so I just had to have a go at this lesson! I chose Spiritual Growth for my two words as above everything else, that represents where I am right now.
I started off with a collage of images torn from magazines. Then I added an assortment of material pieces most of which were more or less transparent so they just added colour while still allowing the paper layer to show through. Next I added the images and words which I printed out using my computer. I used a distress ink pad to help the paper to blend in with everything else. I added some hand stitched crosses and buttons and finished off with some machine stitching to link everything together.
I'm quite pleased with the way it turned out. Its very tactile – I love the feel of all the stitching! Thank you Tam for another great lesson.