This catch-up on the Life Book Course came from Lesson 20 with Jodi Ohl.
I started out by colouring the background using Derwent Inktense pencils. For the doodling and text I used a uniball eye pen, then coloured the doodles using neocolour crayons and a graphite pencil. The two stamps were hand made using pieces of fun foam: I stamped the butterflies using a distress ink pad, and the star using a Staz-on ink pad.
I'm still toying with the idea of adding more doodling. What do you think – do you think I should?

Being without any internet for the past few days, I have had more time to get messy with paint and gel medium! Collage Lady is another catch up from the Life Book Course.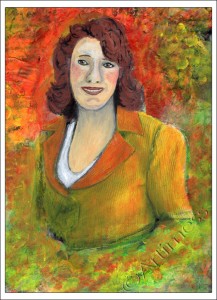 Loosely following Mystele's week 22 lesson I created a collage from torn magazine pages using a picture of a woman as the central focus. I then used a mixture of pastels, gel medium, neocolour crayons, journaling and acrylic paint to add colour and depth to the work. I must add that the painted lady bears virtually no resemblance to the collaged image underneath!
I had great fun making this piece. Thanks for the lesson Mystele and for the new techniques I learnt!
After my travels over at Face of Love, I've decided to return to Artimess to continue my messy exploration of all things creative.
Since I completed my Wreck this Journal book I've been through a slightly more structured phase in my creativity, but I've decided it's time I came home to Artimess and started having fun again!
I signed up for Tamara Laporte's Life Book Course back in January and have been joining in rather haphazardly throughout the year. Last week's lesson by Connie Hozvicka from Dirty Footprints Studio caught my imagination. The picture above is my interpretation of the lesson. Created on watercolour paper (2 x A4 sheets), using glossy gel medium as a base to build texture followed by lots of layers of acrylic paint to add depth and more texture. I had great fun creating this – thank you Connie!