I have to admit, I'm really enjoying taking the time to be creative again. I've worked my way through the free workshops for the first time now, but am thinking of revisiting some of them as they were so full of inspiration that I'm sure I've missed some of it first time round. But I'll share some more of what I've created so far.
I created these two images in response to the workshop led by Kate Crane. I love how Kate uses recycled cardboard as a canvas to create her images – she's definitely a lady after my own heart. I've been using 'junk' in my artwork for many years now.
Rae Missigman always inspires me with her workshops, and this one was no exception. I'm not quite sure how the pages got to be so pink though cos I am definitely not a pink person normally!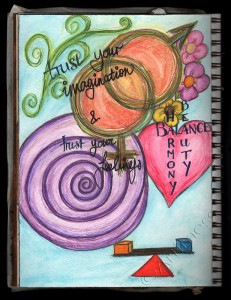 I thought I was going to struggle with Andrea Schroeder's workshop, but the results took me by surprise. As I followed her instructions, I found pictures kept popping into my head waiting for me to add them to the page. There's still some journalling to do, but I'll probably add that later.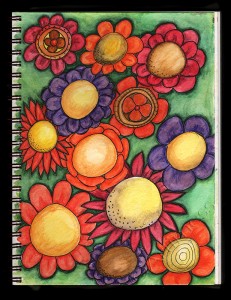 Diana Trout's workshop is definitely one that needs to be revisited. Her enthusiasm is so infectious, and I only took in a small portion of the amazing ideas she was sharing with us. That said, I really enjoyed creating this page and am pleased with how it turned out.
Hmmm… what shall I play with next?

Finally! I've at long last finished projects #5 and #6 in Kate Crane's 21 Secrets 2013 class.
I started project #5 with a collage of printed artwork covered with acrylic paint. I used handmade stamps to add more depth then added a computer printed quotation and some grungeboard keys covered with metallic flakes. Lastly I added a metal key.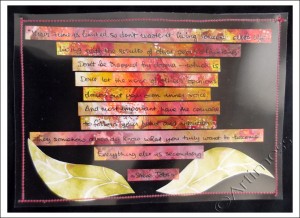 I just loved Kate's acetate sandwich for project #6 but had great problems getting my sandwich contents to stay still. In the end I decided to use some double sided tape to keep everything in place! The quotation is handwritten on strips of cut up painted background and the leaves are cutout prints of handmade stamps. Great fun to do, and so effective!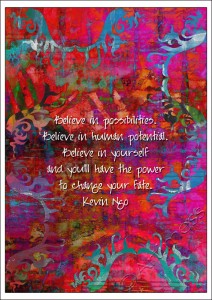 Last but not least, I thought it was time I played with digital blending again! The background is a digital blend of an artwork scan to which I added a blend of a digital brush I created from a hand drawn doodle. I really love this quotation – it's so true!

Project #4 in Kate Crane's 21 Secrets 2013 class is all about playing with ink! I managed to make quite a mess and had wonderfully coloured fingers for a day!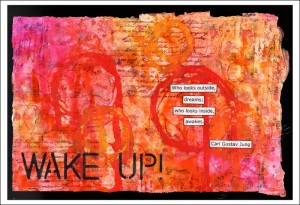 I started off with a piece of recycled cardboard and covered it with a patchwork of torn music squares then covered that with white gesso. Next came the messy part – spraying ink. It took several layers to achieve the look I was after and Kate showed us a really cool technique which disappointingly didn't work with my homemade ink sprays. Still I was pleased with the result I got. For the next layer I used an assortment of background stamps with colour co-ordinated distress ink pads. I have yet to add acrylic inks to my supplies, so I thought I'd have a go at making my own using golden fluid acrylics and water. It took a bit of juggling, but I managed to get quite a pleasing result which I used in a dropper to draw circles on top of the stamping. For the final layer I used Pitt Artist pens and an alphabet stencil to create my caption, and collaged a quotation from Carl Jung that I printed on my computer.
Just two more to go now!

We seem to have bought a lot of books just lately, acquiring as a by-product lots of those cardboard sleeves that books come wrapped in. So when I looked at Kate Crane's 21 Secrets 2013 Class and saw that it was about trying out lots of different techniques, I thought the book packaging would make an excellent base for these projects.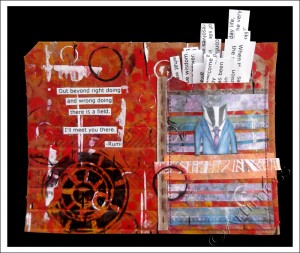 For the first project I started off using spray inks and stencils. Because I sprayed them directly onto the cardboard, the colour was not as bright as I was hoping for. I could have painted over with gesso and started again but I decided to go with it and see what happened. Next I added acrylic paint using a variety of stencils, bottle tops, cards and stamps (including one of my home made foam stamps). I decorated a "dinner money" envelope with strips of old scanned artwork and stitched it to the board then added some ribbon and some more stamping. Lastly I added some cut out quotations to the envelope, and stuck one of them to the card.
For the second project I started off with some old sheet music which I glued to the cardboard. I covered this with acrylic paint, then used a selection of hand made foam stamps to create more interest. I finished it off with a collage of a painted stamped image and a die cut butterfly joined using a tiny split pin, and a quotation which I outlined using a Pitt artist pen.
Four more projects to go – this is fun – I'm off to do some more. See you later!