Still playing catch up with Life Book 2013 classes, today I finished this piece for Tam's week 10 lesson.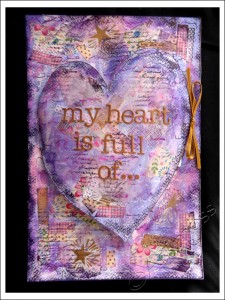 I decided to add my own twist to the lesson by folding my paper in half and cutting a heart shape in the front half to make a heart door. After cutting the door, I started the background using acrylic paint, then added a collage of printed tissue paper, washi tape, and paper ribbon. Next I used Caran d'Ache neocolour crayons and stamping with a staz-on ink pad to add more colour, then finished the front using die cut letters. Once it was all dry, I taped in the ribbon ties and stuck the two halves together.
On the inside, I covered the back of the door with torn tissue paper and gel medium, then set to work making the mini scrolls for the centre from a mixture of torn magazine pages and digital design prints, decorating some of them with stamping. I filled the heart shape with gel medium, and arranged the scrolls on top. Lastly, I made the 'Gratitude" banner by sticking some die cut letters on a scrap of digital design paper.
I had great fun with this lesson – thank you so much Tam!

Cupcakes, bubbles and hearts! – that's what I've been busy playing with – and in the process I've managed to get covered in Ink 🙂 This is just one hand!
The first thing I made was this Heart Book which I covered in home made Bubble Paper.
Next I made this Paper Cupcake Gift container. This was inspired by this HOTP template
And finally I made this cupcake mini book. This was inspired by this Project at Scrapbook.com. I designed and created all the papers I used to decorate the book.
 Now I just have to fill them all 🙂