When I started AEDM (Art Every Day Month) this time last year, we were in the process of selling the house prior to setting off on our travels. It's been a very exciting year, we've experienced a lot and had so much fun along the way! Now – one year later, we have settled near the sea in North Yorkshire. I'm really looking forward to taking part in the challenge again.
I created todays art for this weeks Life Book class from Tracy Verdugo.
As I completed each part of the process I was reluctant to go on to the next stage – I liked it as it was, so I scanned the four stages. The first stage above started off with journalling using wax crayon. I was supposed to use oil pastel but I didn't have any! The idea was to create a resist – I thought the wax crayon would work, but it didn't seem to work at all! I added acrylic paint on top of the journalling.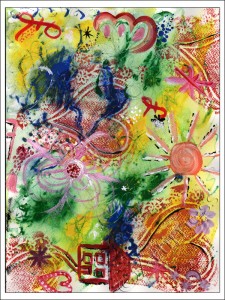 The next layer included stamping done using a home-made foam stamp with distress ink, and some more acrylic paint.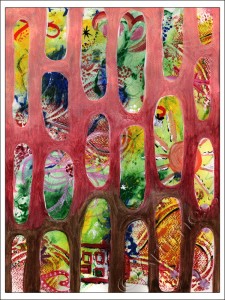 More acrylic paint for the next layer,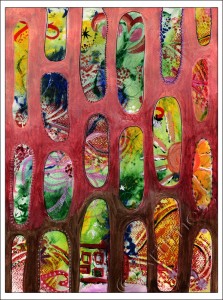 and finally a doodle layer. I doodled using a selection of gel pens, sakura soufflé pens, uni paint marker, and rotring rapidograph pen then added some additional colour added using neocolour crayons.