Still playing catch up with Life Book 2012, Jodi Ohl showed us how to make these embossed foam embellishments – really cool!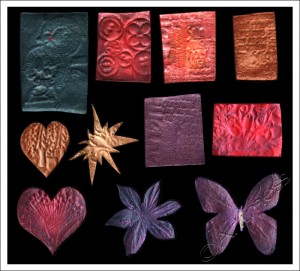 They really are very simple and cheap to make and can be made into simple embellishments, buttons or anything else you can dream up! Heat up the foam with a heat gun and then press a rubber stamp into it to emboss the pattern. You need to press very hard, and the foam is quite hot so I don't think it will work with clear stamps (they don't like heat, and tend to go all squadgy if you press too hard). If you don't like the result just heat and try again. When you are happy with the result you can colour them any way you want. I used a mixture of acrylic paint, perfect pearls and gel medium to give a nice glossy finish and seal them.
Like the backgrounds, I'm not sure what I'm gong to use them for yet … but keep watching … they'll turn up on something soon!