Finally, at long last, my sparkling glitter web is complete!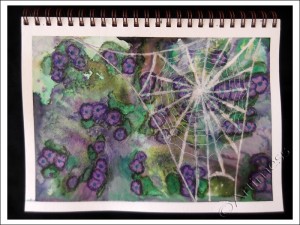 The photo really doesn't show just how sparkly it is, so I've included this detail shot. Click on it to see the sparkles! I love working with Twinkling H20's, but I've never actually used them as watercolour paints before – I must admit I struggled a bit with that! But overall I'm quite pleased with the result.
I created the background using a mixture of Twinkling H2O's and Inktense water colour pencils; the spiders web using bleach, a glue pen and holographic glitter. Oh, and I nearly forgot the salt – but I only used a little bit of that! It sounds so simple doesn't it – I suppose it was, I was just terrified something would go wrong!
There's still one more part of Dion's class to go (this lady believes in giving value for money!) – but as I don't have any of the ingredients at the moment – it will have to wait awhile. Thank you so much Dion, it' been brilliant so far – I'll come back later for the last bit!

I have never been a great one for glitter, although I have recently become quite addicted to twinkling H2O's. So when I read the introduction to my next 21 Secrets 2013 class I was a little nervous. Glitter – and more glitter!
Entitled Sparkle-Arkle, Dion Dior's class promised lots of light catching paint and glitter. Wow! – so many new techniques wrapped up in one class – and this is just part one!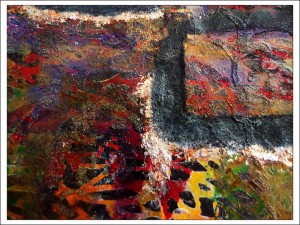 Much glitter later (I'm still covered in it and so are my scanner and my laptop)… here is the final result. I've included a detail photo as the scan really doesn't do justice to the amazing lustre of the final piece. The list of ingredients I used is long: water colour paint, tissue paper, Twinkling H2O's, gloss gel medium, glitter, stencils, stamps, acrylic paint, matt gel medium, gold thread, gilding flakes, pva glue, glue pen, and perfect pearls. I didn't have a lot of the suggested products so I had to improvise, but it was great fun!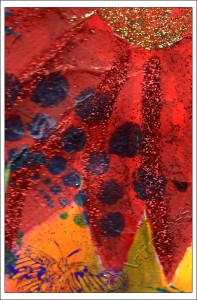 I'm not going to attempt to describe the process – you need to sign up for the course for that, I'll just show you this sneak peek of the underpainting.
Now if you'll excuse me, I'm off to start part two of Dion's class. More glitter!

After playing with Dion Dior's technique yesterday I had to have a go at drawing a mandala using it.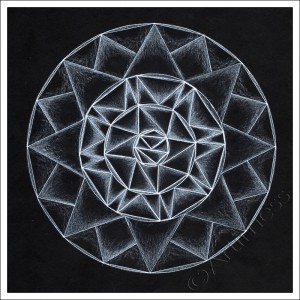 This is what I came up with. I drew and coloured the mandala using a white watercolour pencil together with a Sakura pen-touch pen for the highlights/outlines. I'm quite pleased with how it turned out. What do you think?

I've been a bit caught up in the mechanics of website maintenance for the last few days and have been neglecting my mess-making creativity! Thank goodness for the Monday Life Book lesson from Dion Dior this week – it was just what I needed to get back into mess making again!
Starting with a piece of black paper, I drew a handprint and mini mandala using a white watercolour pencil, then shaded between two using an assortment of dry white media which included a neocolour crayon, a soft pastel and a jelly roll pen. It was great fun and I think I'll be playing with this concept some more over the next few days!
Just to add a bit of colour to the post, I had to show you this.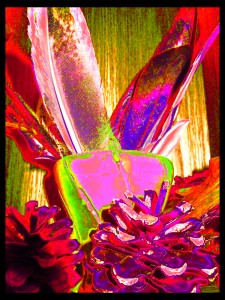 It happened when I was preparing this image for uploading yesterday. I accidentally pressed a few extra buttons … well maybe I did mean to press them … but it looks rather pretty, don't you think?