In contrast to yesterday's post, and just to prove that I have been creating some of my more usual bright work, here are the latest two – digitally altered of course!!
This is my favourite – I love the softness of the colours and the textures which the tissue collage adds to the image. I created the collage using home made background papers, torn paint tissues, acrylic paint, stencils and some Krylon webbing spray. After photographing, I digitally altered the image using filters and blending.
This one is Bry's favourite – he loves the bright colours, and yes, it is meant to make your eyes go funny!. I created this using acrylic paint, stencils and Krylon webbing spray, then digitally altered it using filters and blending.
I've been playing digital with yesterdays images, but you'll have to wait till tomorrow to see what I've done to them!

Life has been a little manic since my last post. But I couldn't resist the call to the latest iHannah's DIY Post Card Swap. If you love mail art and receiving beautiful works of art through the mail then you really should try it! Just click on the link above or the link button in my sidebar to join in the fun.
Since I started the Art Psychotherapy course just over a month ago, I haven't managed to do very much art work at home – I've been too busy trying to get to grips with all the new information my brain has been receiving. But we do create art at uni as part of the course, and I photograph it. I still take photos on the occasional days out we have. And I still can't resist the urge to do a spot of digital blending to see what happens.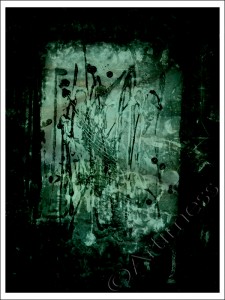 This is the result of a digitally altered piece of artwork blended with a photo of an piece of underwater paving. But I have ten hand made postcards to create for the swap – so I'd better get busy creating! Keep watching!