Phew! – that was one busy week!
But I'm back now and still playing catch up on the Life Book 2012 course – I'd better get a move on as I've just signed up for the 2013 course!
This is my interpretation of Adriana Almanza's Hope Fairy lesson from Week 31. I had so much fun – I hope you like her!
I drew the fairy in pencil then outlined her using a permanent marker pen. Next I painted the background using acrylic paint. I coloured the fairy using a mixture of Caran d'ache watercolour pencils, acrylic paint and white paint markers. I stamped the flowers onto white paper using a black staz-on ink pad and coloured them using Caran d'ache watercolour pencils, cut them out and collaged them into the picture. Lastly, I added the text digitally after scanning the picture.

Today I created a batch of coloured backgrounds in different colours using inktense pencils and neocolour crayons. I often do this when I can't think what to do as I find it generally sets me off on a new creative path. Today was no exception! During the background process I ended up with several very painty tissues, but one in particular caught my eye.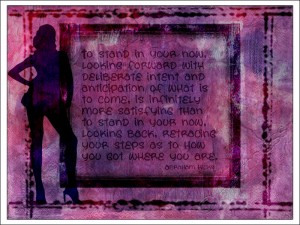 I carefully separated the three layers of tissue then tore and arranged them before glueing them to the background with a healthy dose of gel medium. When it was all dry I scanned the image into the computer, added the quotation and chose some digital brushes to frame the words.

I'm still ploughing my way through my pile of leaf prints from the end of September. Today I decided to add a quotation using digital text to this one, and a bit of digital blending for good measure!
The original image had an acrylic paint background with acrylic paint leaf prints on top.

Newspaper is one of my favourite materials – it is so versatile! You can use it to protect your work areas, you can cut it up and make things with it, you can build things with it, you can use it for papier mache, you can take prints from it, you can use it in collages – and those are just a few of its craft uses!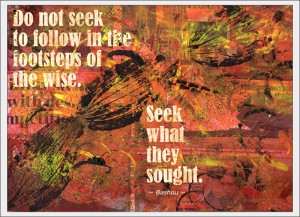 To create this image I completely covered a sheet of watercolour paper with torn newspaper, then added acrylic paint using a variety of implements including bottle lids, bubble wrap, sequin waste and old credit cards. Next I added some carefully chosen, strategically placed leaf prints and a few stencilled footprints. Finally after scanning the image into the computer, I added a quotation using distressed digital text.
I love the way the newspaper peeps through the layers in places!
I love the autumn when the leaves turn such beautiful colours on the trees. As they fall to the ground it's the perfect time of year to satisfy the child in me by doing some leaf printing. A few mornings ago, I came back from my early morning walk with a large bag of assorted fallen leaves ready to spend the day playing!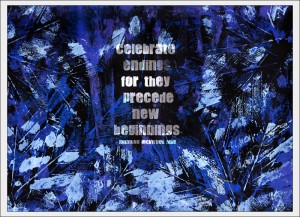 By the end of the day I had paint everywhere, together with a stack of images in a variety of styles and colours. Having scanned them all into the computer, I am now in the process of going through them. Some of them like the one above, immediately suggest something to me, but others may sit neglected for months before I discover a perfect use for them.
Autumn Blues was created using a base coat of black gesso, acrylic paint leaf prints, followed by some digital text and a bit of blending.
The observant among you may have noticed that I've just acquired a new badge on my right sidebar. I've just signed up for this years Art Every Day Month – the challenge of being creative every day for the month of November. I really enjoyed taking part last year from my Face of Love blog and am looking forward to being part of it again. Why don't you give it a try – it's great fun!