I really enjoyed all the mixed media work I've been doing recently, so I decided to do some more playing with layers, both physical and digital.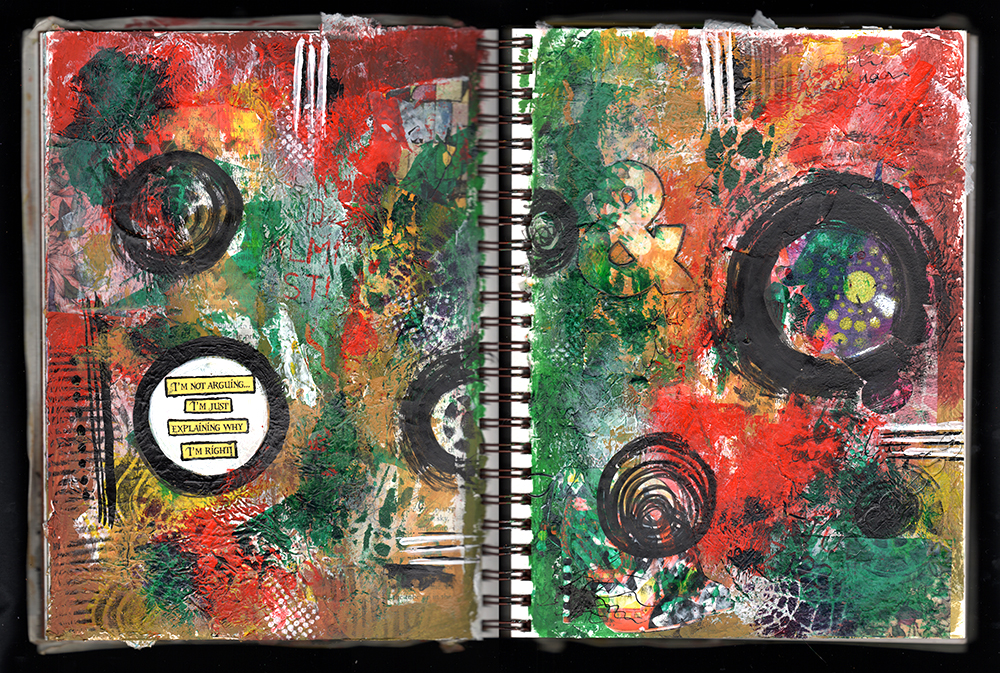 This first image started out as a collage using a mixture of old papers, book pages, old paint stained tissues, and magazine clippings. This was followed by a liberal application of acrylic paint, stencilling, homemade stamps, washi tape, and more collage. The quotation made me smile, as it's the kind of thing I say all the time!
This second image was inspired by some work I did at the weekend on the Person Centred Expressive Arts workshop that I attended run by Dinah Brown and Nuala Eden. It began life as a geometric abstract created using watercolour pencils. Although it was quite colourful, it looked a bit flat, so I gave it the mixed media treatment. I added acrylic paint, stencils, homemade stamps, paint markers and indian ink, then finished it off with some letter stamps and collaged letters.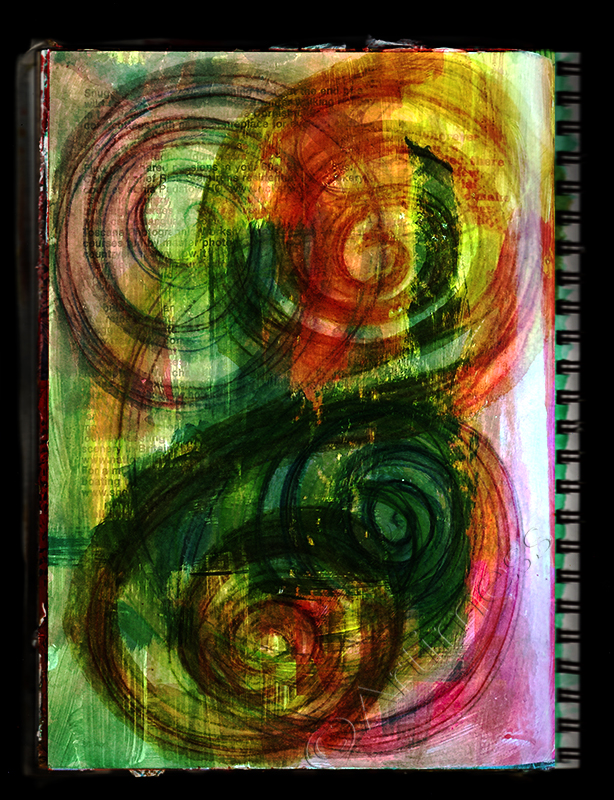 Its been a while since I played with any digital layers, so this last image is a digital blend of two journal pages – a series of swirls drawn with watercolour pencils, and a page created to use up some leftover paint.
Only five days left before the start of 21 Secrets Fall 2015 – I'm really looking forward to working and learning with all the amazing teachers Connie has gathered together.

Mandala Magic, Julie Gibbons year long Mandala course started this week, so I've been busy creating mandalas for the first round. The course is based on exploring the twelve archetypal stages of the great round of mandala developed by Joan Kellogg and written about by Susanne F Fincher in her book called The Mandala Workbook: A Creative Guide for Self-Exploration, Balance, and Well-Being
. I had already bought the book before I signed up for Julie's course but you really don't need it as Julie provides an amazing wealth of information and the group members are a constant source of inspiration and encouragement.
These are two of the mandalas I made for this stage of the journey. The mandala on the left represents the Void – a place to rest in the darkness. The mandala on the right draws on traditional wisdom drawn from many sources in which the spiders web is used to represent the darkness and safety of the womb.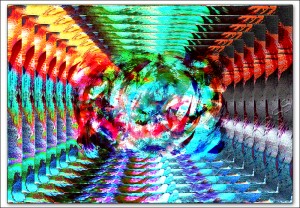 This next image is a blend of acrylic prints digitally altered to create a 3D effect.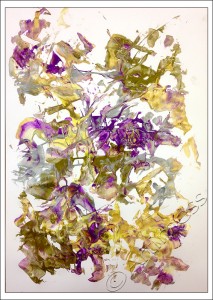 And this final image, created with acrylic paint using various palette knives, reminds me of an ancient battle scene. I can see lots of fighting figures in it – can you?

Since finishing my postcards, I have been busy playing with the new stencils I got last weekend. I always start my playing in my everyday notebook/journal, which is not quite big enough for the whole stencil.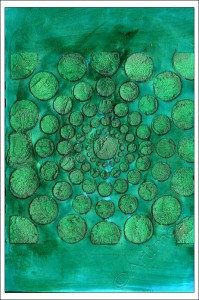 I had a tiny bit of Light Molding Paste left in my pot so I thought I'd try it out with this Creative Expressions stencil. When it was dry, I painted it with acrylic paint, then added some green Perfect Pearls using a Versamark ink pad. Just to finish it off I added a shadow to the circles with a Unipin fine line pen. The scan really doesn't show the lovely sparkly finish of the perfect pearls.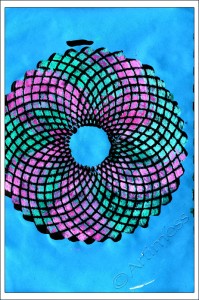 As I'd run out of texture paste, I thought I'd try creating a texture using some black gesso with this TCW stencil. At first I thought it had worked, but when it dried, it went rather flat! So I decided to add some colour to it using acrylic paint. I'm quite pleased with the way it turned out.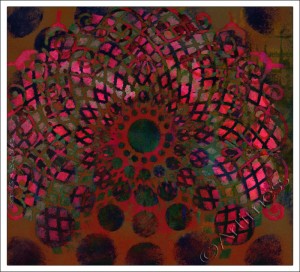 This last image is a digital blend of two scans of earlier acrylic paint prints using the two stencils above. I just love how many different effects it's possible to get using stencils!