Wow – I'm impressed! The finished painting actually looks more or less as it did in my head! This is the final version of my painting for Danielle Daniel's class (part of the 21 Secrets 2013 course). Thank you for the tip about the 'Stabilo All' pencils Danielle – worked like a dream! They have this amazing ability to be able to write on almost any surface – they certainly worked on my glossy gel medium! The title for the piece, 'Snow White Kite', is taken from the Simon Dupree & The Big Sound song 'Kites' which was a hit way way back in the mists of time!
I initially 'saw' the girl in the background paint and used the Stabilo All pencil to sketch in the details. I painted her using acrylic paint and used a Uniball sign pen and an Edding 780 paint marker to outline the kite. Lastly, I used a Pilot gold marker to write on the kite.
I am really enjoying the 21 Secrets 2013 Course – thank you Connie! It's not too late to come and join the fun. I'm off now to see what the next class has in store for me – see you later!

Today I've been working on Danielle Daniel's class, part of the 21 Secrets 2013 course. I had great fun and got very messy creating this background.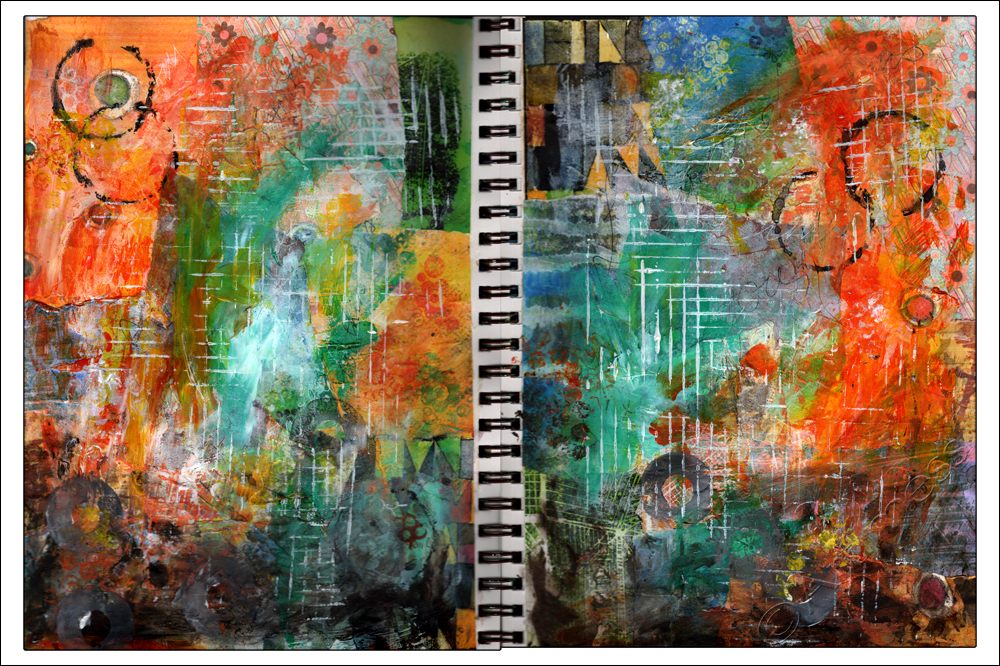 I started out with a collage of printed papers from my earlier artwork, then added acrylic paint using a variety of techniques. Next I added journalling followed by more acrylic paint! I still have more to do to finish – there's at least one person waiting to be painted – but I really like how it looks right now, so I thought I'd share it with you.
When I finished painting, I had rather a lot of leftover paint on my palette, so I created this in my notebook.
Then I decided to see what it looked like with a bit of digital blending. I quite like how it turned out so far, but I have a feeling I'm not finished with it yet!