Since finishing my postcards, I have been busy playing with the new stencils I got last weekend. I always start my playing in my everyday notebook/journal, which is not quite big enough for the whole stencil.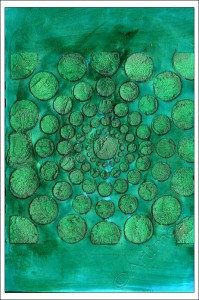 I had a tiny bit of Light Molding Paste left in my pot so I thought I'd try it out with this Creative Expressions stencil. When it was dry, I painted it with acrylic paint, then added some green Perfect Pearls using a Versamark ink pad. Just to finish it off I added a shadow to the circles with a Unipin fine line pen. The scan really doesn't show the lovely sparkly finish of the perfect pearls.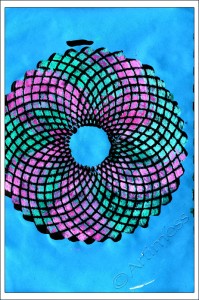 As I'd run out of texture paste, I thought I'd try creating a texture using some black gesso with this TCW stencil. At first I thought it had worked, but when it dried, it went rather flat! So I decided to add some colour to it using acrylic paint. I'm quite pleased with the way it turned out.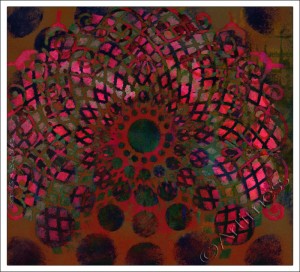 This last image is a digital blend of two scans of earlier acrylic paint prints using the two stencils above. I just love how many different effects it's possible to get using stencils!

Last Sunday we travelled to Harrogate and visited the Great Northern Papercrafts Extravaganza – great fun! I got some really cool stencils, stamps and dies which I have been playing with this week.
On Monday I signed up to take part in the iHannah's DIY Postcard Swap 2013. (There's still time to sign up if you're interested, you just have to pledge to post 10 handmade cards by 30th March.) So I have been busy this week making my ten cards for the swap.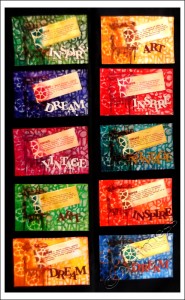 I started by creating a set of coloured backgrounds using Inktense Watercolour pencils. Next I added a contrasting colour using Acrylic paint and an Artist Cellar Stencil followed by a stamped image from IndigoBlu using a mixture of distress ink and staz-on ink pads. I followed this with a layer of gel medium to seal everything and to stick on the word definition tags, which I created using more stamps from IndigoBlu and a Creative Expressions stencil, and the die cut letters from memory box. Lastly I added another layer using the same stencil with acrylic paint.
I created the backs of the postcards using a free postcard backside from iHannah which I had to resize to fit my postcards, then added a digital stamp which I made using a scan of another Creative Expressions stencil, some hand drawn bird shapes and a quotation from Friedrich Nietzsche.
The completed postcards are now sitting waiting for their recipients addresses to be added!