I can't believe how long its been since I last posted here! I've decided that unpacking is a lot more stressful than packing … but it's finally all done – including the 5 boxes which my brother returned to me (after looking after them for the last 18 months) during his visit last week!
So… what have I been up to? I got my paint trolley from Ikea…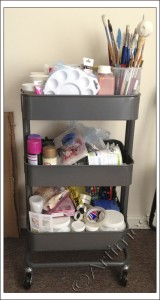 I broke up all the packing boxes and saved a big pile of assorted shapes to use as canvases, then started painting some of the smaller ones.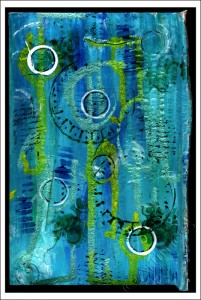 I painted this on recycled cardboard using acrylic paint, acrylic ink and various homemade stamps.
I painted this on a scrap of plywood salvaged from some packaging using acrylic paint, acrylic ink, clear stamps and a staz-on ink pad.
There are lots more to show you, but I haven't finished scanning them all yet, so I'll post pictures of them during the week.
I also got a brilliant easel for painting big …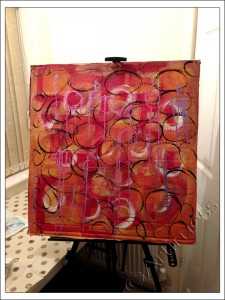 … as you can see – I've already started playing with it. This is just the first few layers – I've added two more since I took this picture!! I'll post another picture when it's finally finished.
I've also been playing digital … but you'll have to wait till tomorrow to see them or I'll never get this posted.
I'll leave you with this beautiful view taken on a trip to the Peak District, half an hour from our new home, yesterday.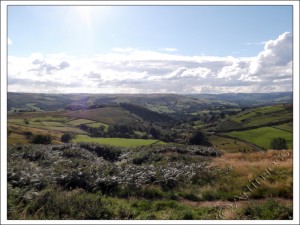 At last all the layers have dried and it's safe to scan the finished page.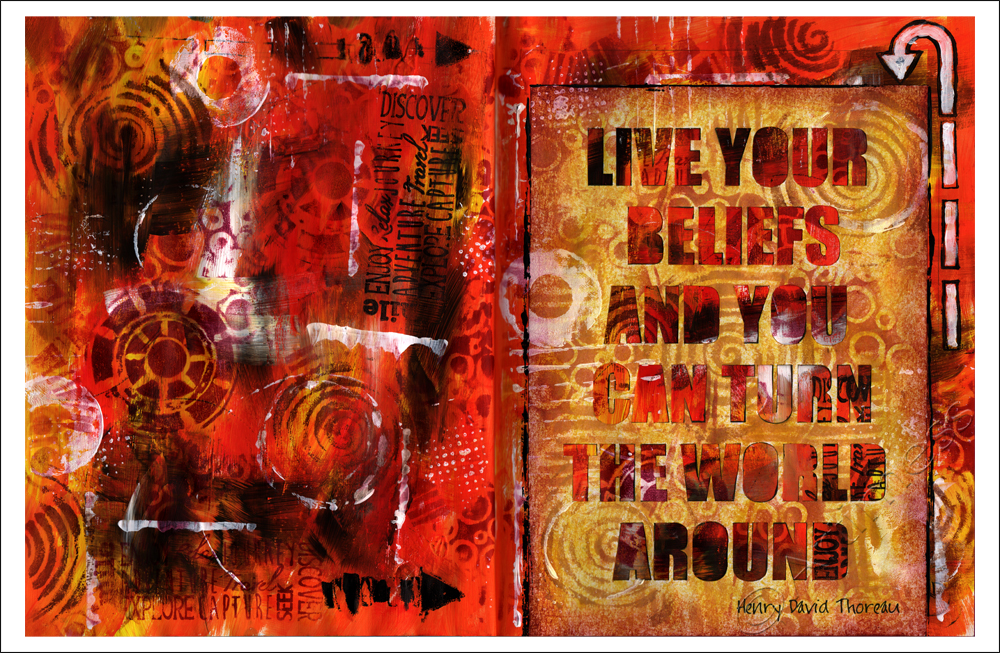 I love how the finished page turned out, and I had such fun making it. The only tricky part was managing the wet media on the thin pages of my new journal, but I managed that by starting with a thickish layer of white gesso and using the acrylic paint with a dry brush. What I love is that you can still see some of the original pages through the layers in places!
Just for a change my 'ingredients' list is quite short! I started with white gesso, added layers of acrylic paint, and stamped using various clear and homemade stamps with a staz-on ink pad and some distress ink pads. I printed the quotation onto plain white copy paper then cut out the letters by hand, leaving me with a stencil affect. I coloured this using distress ink pads, then stuck it to the page using a glue stick. Lastly I added some more acrylic paint using an assortment of household items!

It must be the effect of all the dull winter days at the moment, I just keep wanting to play with flower images, so here are some more winter flowers!
I started off by stencilling the big flowers onto the watercolour paper using acrylic paint – messy, but fun! Then I added some more flowers using clear stamps and a mixture of Staz-on ink pads and distress ink pads. Lastly I scanned the image into the computer, added some more greenery with digital brushes and some more background colour using gradients and blending.