Seeing all the beautiful Christmas cards people have been making out there, I thought it was maybe time I put my newly learned skills to use making some Christmas cards to send to my friends. With that in mind, I set about drawing a Christmas Angel.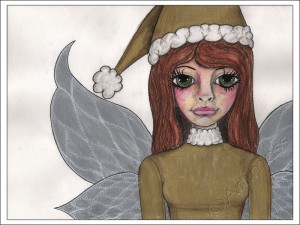 I drew her using pencil, then coloured her using a combination of Caran d'ache watercolour pencils, acrylic paint, a Sakura Pen-touch marker and a Uniball eye pen. When she was completed I scanned her into the computer to add a digital background.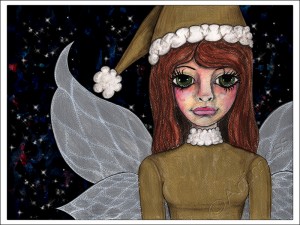 I created the background using a blend of two of the stencil backgrounds I made last week together with a star brush.
Lastly I took the image, added a digital 'Happy Christmas' down the left hand side and created a printable Christmas card.
They're all winging their way through the postal system at this moment and will hopefully arrive in time for Christmas!

Phew! – that was one busy week!
But I'm back now and still playing catch up on the Life Book 2012 course – I'd better get a move on as I've just signed up for the 2013 course!
This is my interpretation of Adriana Almanza's Hope Fairy lesson from Week 31. I had so much fun – I hope you like her!
I drew the fairy in pencil then outlined her using a permanent marker pen. Next I painted the background using acrylic paint. I coloured the fairy using a mixture of Caran d'ache watercolour pencils, acrylic paint and white paint markers. I stamped the flowers onto white paper using a black staz-on ink pad and coloured them using Caran d'ache watercolour pencils, cut them out and collaged them into the picture. Lastly, I added the text digitally after scanning the picture.