Now that February is over and my Mystery Musee has safely received her gifts, I can show you what I've been up to! I took part in the Artella Mystery Muse 2013 Project; you submit your details and a word which sums up the year for you and get given in return a "Mystery Musee" person to send two hand made gifts to in the month of February. I had great fun making gifts for my "Mystery Musee".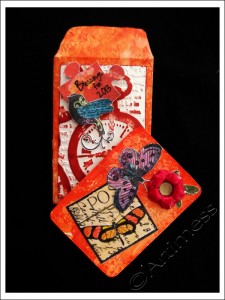 The first gift I sent was this collaged playing card with her word for the year on the back enclosed in the altered envelope.
For her second gift I made this canvas board collage using letter stencils and a quotation from Maya Angelou.
In return, I received 2 beautiful gifts from a different person who had been given my details. It was so lovely to receive surprise 'snail mail' and inspirational to see another persons work in this way. I will definitely be signing up for this challenge again next year, and will be looking out for other hand made/artwork exchanges during the rest of the year. Do you know of any?

Still inspired by Jodi Ohl's Just do it – Free Art Friday post, I decided to create another stained glass image, but to cover it in doodles in the style of my zentangle drawings. I used a 5″x7″ canvas board to draw it on.
I doodled using a Unipin fine line pen which claims to be 'water and fade proof'. "Hmmm, we'll see about that!" … I thought. My record with so called waterproof pens is not very good!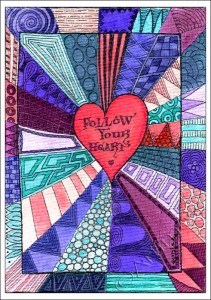 Wow – I'm impressed! Not a smudge or a smear anywhere! These pens are good! I used Twinkling H2O's to add the colour, so the ink got verrry wet! Now that it's finished, I think it looks kind of mandala-ish – the way it pulls your eyes in to focus on the heart. It wasn't intentional, but I rather like it. What do you think?