Today I started out by sticking a mixture of all kinds of paper to a sheet of watercolour paper. I followed this with a light brayering of white acrylic paint to blend everything together. Then decided I would play some more with the flower stencil I used yesterday and ended up with this image.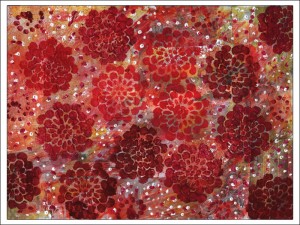 I couldn't decide what to do with it next. So I scanned it into the computer and stated playing. This was my favourite of all the blends I came up with.
I liked it, but I wanted to take it further. It occurred to me that it would look cool as the pattern on a christmas tree shape, so I set off on a hunt for some Christmas tree brushes. I found some beauties here at Photoshop Graphics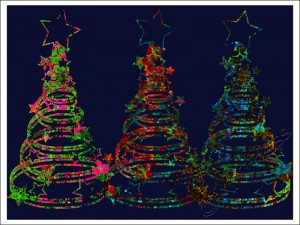 Of all the Christmas Tree shapes in the brush set, this was my favourite! But I still wasn't finished!I decided to create my first Christmas card of the year – well two actually! I think I prefer the one without the writing on the front. What do you think?
Quite a productive day really from one simple piece of artwork!

I've been wanting to try out image transfers for such a long time … but every time I've found a set of instructions they've involved using substances which were either dangerous or else difficult to obtain. So imagine my excitement when I came across this book, Image transfer Workshop by Darlene Olivia McElroy which has a huge variety of very simple step by step instructions for transferring images, many of which use common safe substances! I'm planning on trying them all over time, but I started with the ink jet / gel medium transfers as they were so simple. All you need is a pot of Gel Medium, a paint roller/brayer and an ink jet printed image!
The image on the left-hand page of a rose bud is my very first attempt … pretty impressive I thought. I got so excited with my success that when I did

the next one, after remembering to reverse the image when I printed it, I stuck it to the page upside down!! Luckily it was in my Wreck this Journal Book so I figured it was meant to be!!
This next transfer forms the first completed page in my creative business plan which was inspired by The Right-Brain Business Plan devised by Jennifer Lee. The page is in the middle of

the book I have made and I have written " Development and growth are vital to my business. I need to experiment, experience, and constantly be trying out new ideas. Having Fun!`' around the the image. This is much more fun than a traditional business plan 🙂
This last image is my favourite of the lot! Inspired by my Wreck this Journal Book, I have decided to alter one of the many fiction paperback

books I have littered throughout my house waiting to be taken to the charity shop. I love the way the text looks like it's been aded after, when in fact it's the only bit of the original page that you can see!
I can't wait to get started on trying out some of the other techniques in the book … keep watching this space!
At a recent business seminar we were given small gift boxes containing tiny meringues from Head in the clouds. The meringues were delicious … but I have to admit … it was the boxes that appealed to me the most!! I had to find out how they were made and have a go at reconstructing them. This is the result 🙂
I've been so busy working lately that I haven't had much time to get messy so it was a real treat to play with these boxes!