I just couldn't resist doing some more paper cutting today. I drew the design, a kind of flower mandala, cut it out then thought it might look good with some colour. I scanned the cut out to print it, but couldn't resist playing digital blending with it first…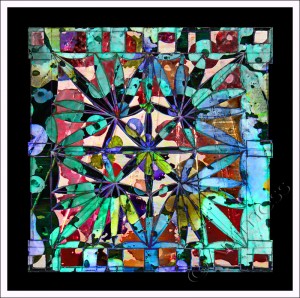 … I rather like how this one turned out. After that little detour I got down to trying out some colours and decided to go ahead with them.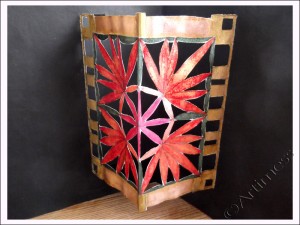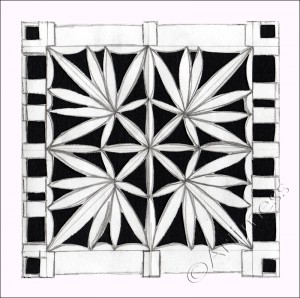 I created the mandala design on some scrap white printing paper then painted it with Twinkling H2O's. It looked a bit anaemic on the white so I painted the background with black gesso before sticking the whole thing to black card with lo-tack double sided tape. I love the way the Twinkling H2O's contrast with the matt black of the gesso.

The trouble with being signed up to two online courses at the same time, is that it's easy to neglect one in favour of the other. But I just couldn't resist trying this lesson, Let Your Light Shine, by Joann Loftus from the Life Book 2013 course. As with many of the lessons, I didn't have all the suggested ingredients so I did a bit of improvisation – and I must admit – I'm loving the result!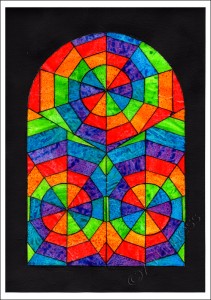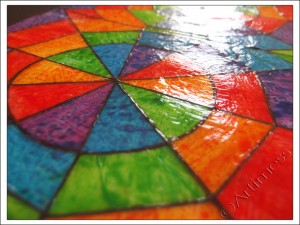 While the scan captures the colours beautifully, it doesn't show the amazing shine on the finished 'window', so I've included this detail picture so that you can see how it shines!
I created the 'stained glass' using tissue paper, pva glue and acrylic paint- not quite what I was supposed to have used – but it seems to have worked! Cutting out all the pieces and sticking them down was a slow process, but it was cool watching the design come alive as each new colour was added. Next I added the 'leading' lines using Pitt Artist Pens (they didn't like writing on the glue and kept drying up!), and lastly I coloured the border using black gesso.
I still have lots of the 'stained glass' left over so watch out for it in other projects! Now I really must get back to finishing the second half of Dion's class. See you later!