I'm never quite sure what qualifies as 'Mail Art'. Does it have to be something you make to send through the post, or can it be recycling something that has already been sent through the post? I'm sure someone will enlighten me, but in the meantime, I'm calling what I created today 'Mail Art'!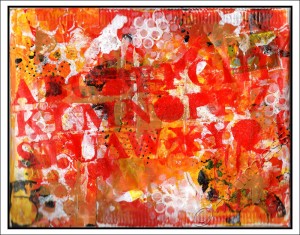 We received it in the mail a couple of days ago when it contained some computer memory for a computer Bry is currently repairing. Knowing my acquisitive habits, he gave it to me for recycling. I originally intended to put it with my collection of padded envelopes, but it never got that far. It's been sitting in a pile on my desk, and this evening when I was wanting to paint something small, it seemed the obvious choice of canvas.
I decorated it using acrylic paint applied with my fingers and an assortment of my recycled 'stamps' (sequin waste, old cards, creamer sealers, washers, etc). I finished it off using the waste from a die-cut alphabet as a stencil. I really like how it turned out – maybe I'll re-use it as an envelope now it's finished!

Project #4 in Kate Crane's 21 Secrets 2013 class is all about playing with ink! I managed to make quite a mess and had wonderfully coloured fingers for a day!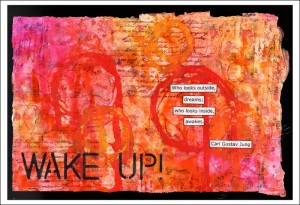 I started off with a piece of recycled cardboard and covered it with a patchwork of torn music squares then covered that with white gesso. Next came the messy part – spraying ink. It took several layers to achieve the look I was after and Kate showed us a really cool technique which disappointingly didn't work with my homemade ink sprays. Still I was pleased with the result I got. For the next layer I used an assortment of background stamps with colour co-ordinated distress ink pads. I have yet to add acrylic inks to my supplies, so I thought I'd have a go at making my own using golden fluid acrylics and water. It took a bit of juggling, but I managed to get quite a pleasing result which I used in a dropper to draw circles on top of the stamping. For the final layer I used Pitt Artist pens and an alphabet stencil to create my caption, and collaged a quotation from Carl Jung that I printed on my computer.
Just two more to go now!