Still struggling to keep up with my studies – yesterday I had a total meltdown!
I stormed off to my studio and started squeezing paint! This image really doesn't do justice to the dimensional nature of the finished piece, so I captured these close-ups to show you just how much paint I used!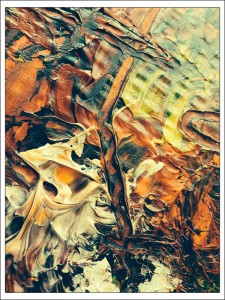 I called this one Faces because I can see a strange looking face in the bottom left corner of the image. Can you see it too?
The Tram Tracks in this one were created when I vented some of my frustration using the wrong end of the paint brush!
The Coffee Rings were created using a selection of circular objects pressed into the thick paint.
This one reminds me of a stormy sea – a bit like how I was feeling at the time!
But the exercise worked it's usual magic. By the time I was done, the feelings had transferred their trauma to the canvas leaving me able to move on.
P.S. I'm still waiting for the paint to finish drying!