The 1st of August has arrived bringing with it the start of Effy's challenge to blogalong with her for 30 days in August. There's still time to join in if you haven't already, just click on the link below.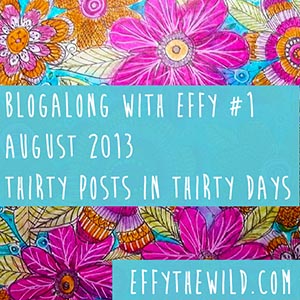 Being a little slow off the mark, I have just decided to join in Effy's Inner Excavate Along where she is going through Liz Lamoreux's book Inner Excavation. Effy has nearly finished, but I'm just starting …. O well as Effy says, I own the book so I can work through it whenever I like :).
Anyhow… after reading all the ideas and suggestions in chapter 1, I decided to create a word poem using a few of the words on the pages of my recycled journal. Originally I thought I'd add some joining words between the words on the page, but on reflection, I decided that would be overkill and have bravely left them stark and suggestive. I hope you like them.
I started out by very careful covering the words I wanted to use in masking fluid. Once that was dry, I covered the pages with a thick layer of gesso, then started adding layers of acrylic paint, stencilling and stamping. When I was happy with the result, I carefully peeled off the masking fluid to reveal the words, then added my theme 'I Begin…' using die cut letters.
I'm off to see what everyone else has been up to now. See you tomorrow!