I started today by painting a couple of backgrounds using derwent watercolour pencils, a blue one and a yellow/green one. While I was waiting for them to dry I felt prompted to draw a female face on the yellow/green background. So here she is – my Green Goddess!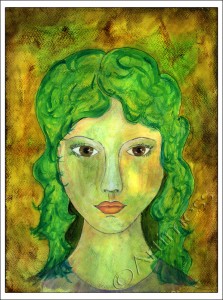 I drew her face in pencil, outlined it using a uniball eye pen, and coloured it using neocolour crayons, leaving quite a lot of the background colours still showing through. Lastly I darkened the background using distress ink pads.
I have no idea where her face came from, but I'm quite pleased with the finished result.