Still inspired by Jodi Ohl's Just do it – Free Art Friday post, I decided to create another stained glass image, but to cover it in doodles in the style of my zentangle drawings. I used a 5″x7″ canvas board to draw it on.
I doodled using a Unipin fine line pen which claims to be 'water and fade proof'. "Hmmm, we'll see about that!" … I thought. My record with so called waterproof pens is not very good!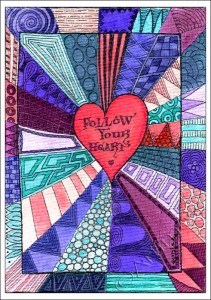 Wow – I'm impressed! Not a smudge or a smear anywhere! These pens are good! I used Twinkling H2O's to add the colour, so the ink got verrry wet! Now that it's finished, I think it looks kind of mandala-ish – the way it pulls your eyes in to focus on the heart. It wasn't intentional, but I rather like it. What do you think?