I'm playing catch up today – it's been a really busy week!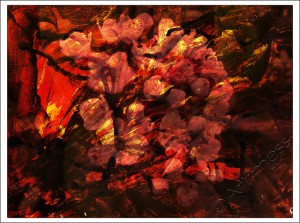 On Tuesday, I created a couple of backgrounds using a mixture of acrylic paint and ink. I scanned them both into the computer then added a photograph of some flowers and blended them to create this image.
On Wednesday I followed a video from Doll Dreams teaching us how to draw these cool doll birds! I tried it out in my everyday notebook using a uniball eye pen, then did the doodle later using my rapidograph pen while I was on the telephone! I didn't plan for them to go together, but I think they do anyway! Do you agree?
Today I had fun playing with all sorts. I started by colouring the page with neocolour crayons, then collaged an embossed sheet which I had coloured with distress ink and the stamped image of the globe which I cut out. Next I added the text which I printed on the computer and coloured using a watercolour pencil and a gold marker pen. Finally, after scanning, I added a bit of digital shading and distressing. I really like how it turned out. What do you think?

Yesterday I got the fright of my life. I was totally absorbed in capturing this shot when a dog barked right behind me. What made it worse was that I was precariously perched on the edge of the cliff path, and I suffer from a fear of heights! This was the result.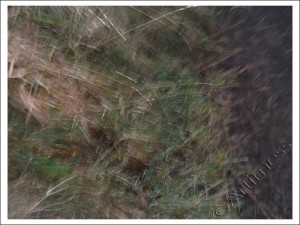 Not being one to waste anything, I set about playing blending games with this image.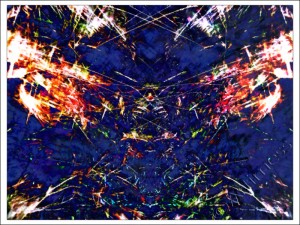 What do you think?

Yesterday's photo shoot for this picture took place on a road bridge through some railings. Needless to say I took pictures of the railings, and although they didn't feature in the day's picture, I thought they'd be fun to play blending with.
Do you like the result?

I've decided to try and take a photo every day this year to improve my photography. Yesterday I took a photo of my Christmas roses, but you know me … I can't help but play blending games with my photos!
I just love the way it turned out! What do you think? You can see all of the originals here.

Yes!! … I've done it! I've linked and transferred all the posts, images and comments from my free WP blog! I couldn't believe how simple it was 🙂 Any way … enough of my rambling …. let's have some more creativity!!
Last week, my daughter left home to start her life at Greenwich University. I decided a 'Welcome to Your New Home' card was a bit too normal, so to mark the occasion, I made her a Mixed Media Collage picture for her wall.
I started off with an old piece of mount board left over from my own days at Uni not that long ago. I painted it with white gesso to give me a good base to work on then coloured it using a three or four colours of acrylic paint and various techniques. My next step was to arrange the images into an interesting shape which I then covered with more acrylic paint to make them blend in. I mounted the central image onto some corrugated board and stuck it in the middle, then made the frame from old bottle tops.
Delivering the picture, along with a car load of 'forgotten' bits, at the weekend gave me the opportunity to take my camera out round the O2 on Saturday night. With my normal penchant for the unusual .. I was quite pleased with these detail shots taken inside the dome.
I love getting out with my camera – it provides me with a wealth of original images that I can turn into artwork for all kinds of uses.
I took my camera out for a long overdue photo shoot the other day …. not the pretty picture kind mind you … more an up close and odd angles shoot!! This is a macro shot of one of the handles on my (rather rusty) wheelbarrow.

Then I started playing blended images …. a brick blended with a piece of angle iron ….
… a rusty tin blended with a sycamore seed …
… and late at night I managed to capture my first spiders web!
It took a bit of doing – I had to get my daughter to stand outside waving at the motion sensor on the security light … but I think it was worth it! I hope to get some better web pictures once we get some frosts later on!