Being without any internet for the past few days, I have had more time to get messy with paint and gel medium! Collage Lady is another catch up from the Life Book Course.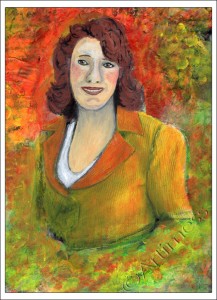 Loosely following Mystele's week 22 lesson I created a collage from torn magazine pages using a picture of a woman as the central focus. I then used a mixture of pastels, gel medium, neocolour crayons, journaling and acrylic paint to add colour and depth to the work. I must add that the painted lady bears virtually no resemblance to the collaged image underneath!
I had great fun making this piece. Thanks for the lesson Mystele and for the new techniques I learnt!
We've been battling with our internet provider this week and have been without service for nearly two days! It's just come back up so I'm making hay while the sun shines!
I wasn't in the mood for crochet (this weeks Life Book lesson) so I thought I'd play catch up with one of the previous lessons I've not looked at yet! I chose week 25 by Juliette Crane.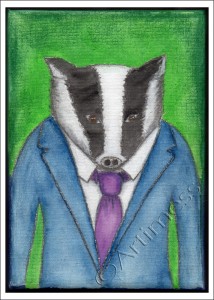 I loved every minute of doing this picture of my totem animal – so much so that I kind of forgot to follow the instructions and ended up with something rather different from Juliette's wonderful whimseys! I drew the outline using water soluble graphite sticks, then coloured Badger in using neocolour crayons. I used the neocolours to create the background, then added some distress ink to add a bit of depth.
Last weeks life book lesson with Tam was to create a mixed media collage using paper and material celebrating where you are now using no more than two words. I love working with material, so I just had to have a go at this lesson! I chose Spiritual Growth for my two words as above everything else, that represents where I am right now.
I started off with a collage of images torn from magazines. Then I added an assortment of material pieces most of which were more or less transparent so they just added colour while still allowing the paper layer to show through. Next I added the images and words which I printed out using my computer. I used a distress ink pad to help the paper to blend in with everything else. I added some hand stitched crosses and buttons and finished off with some machine stitching to link everything together.
I'm quite pleased with the way it turned out. Its very tactile – I love the feel of all the stitching! Thank you Tam for another great lesson.