I really enjoyed all the mixed media work I've been doing recently, so I decided to do some more playing with layers, both physical and digital.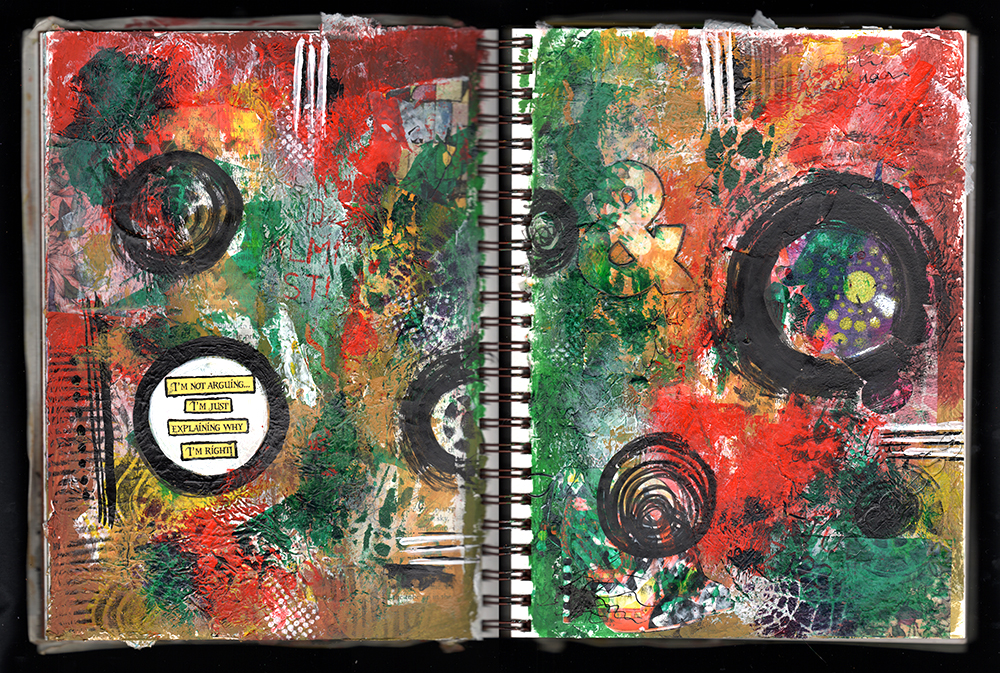 This first image started out as a collage using a mixture of old papers, book pages, old paint stained tissues, and magazine clippings. This was followed by a liberal application of acrylic paint, stencilling, homemade stamps, washi tape, and more collage. The quotation made me smile, as it's the kind of thing I say all the time!
This second image was inspired by some work I did at the weekend on the Person Centred Expressive Arts workshop that I attended run by Dinah Brown and Nuala Eden. It began life as a geometric abstract created using watercolour pencils. Although it was quite colourful, it looked a bit flat, so I gave it the mixed media treatment. I added acrylic paint, stencils, homemade stamps, paint markers and indian ink, then finished it off with some letter stamps and collaged letters.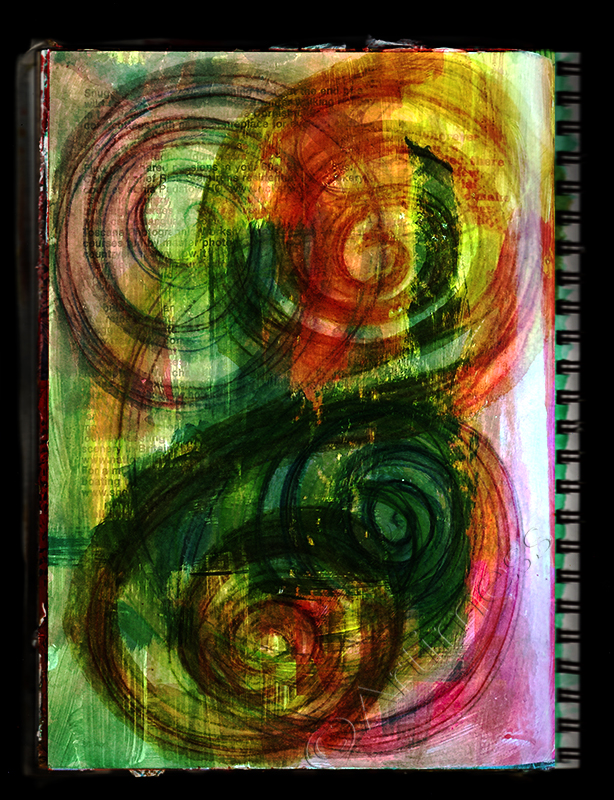 Its been a while since I played with any digital layers, so this last image is a digital blend of two journal pages – a series of swirls drawn with watercolour pencils, and a page created to use up some leftover paint.
Only five days left before the start of 21 Secrets Fall 2015 – I'm really looking forward to working and learning with all the amazing teachers Connie has gathered together.

As part of my September fresh start, Ive been brushing the cobwebs off my creative skills and learning some new techniques as I've played along with a whole bunch of fabulous artists – free workshops that Connie Solera gave as a bonus for signing up to Fall 2015 21 Secrets. I love the variety of different styles that I've created as a result.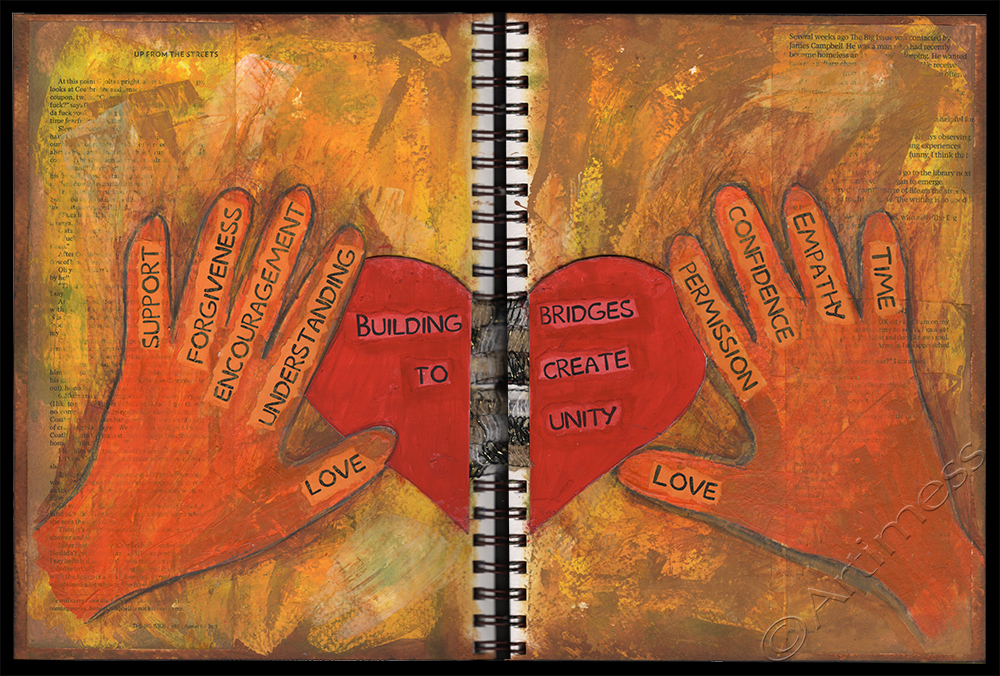 This first journal spread was the result of a workshop with Gretchen Miller reflecting on giving and receiving. I had great fun creating the bridge over the binder rings using some of the wool I bought recently, but its made it quite difficult to close the journal now!
I really loved creating this journal page with Violette Clarke. I didn't follow her instructions to the letter, but I learned a lot and really like how my page turned out. I was totally inspired by this amazing lady, her incredible vitality and vibrant work.
This page was the result of listening to the 21 Secrets Conversation with Eric Scott from Journal Fodder Junkies. After listening to Eric talking to Connie I was intrigued to find out more, and went hot footing over to the Journal Fodder Junkies site where I discovered a series of how to videos. My page didn't quite turn out how I thought it would, but I had great fun making it, and learnt loads in the process.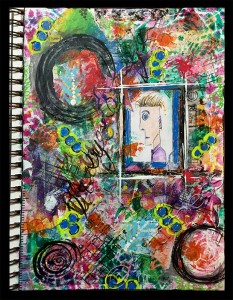 This final page was inspired by a workshop with Roben Marie Smith. I don't think I've ever made such a busy page with so many layers before, but I really love how it's turned out.
I still have a couple more free workshops to take part in before the end of the month when 21 secrets starts, and lots of inspiration for more pages to create – so watch this space to see what I get up to next!

Just a quick post to show you my second mandala created on Julie Gibbon's Mandala Magic Course.
It's called an Intention Mandala, and I really enjoyed creating it. It has a hidden layer behind the collage – powerful stuff! I'm working on number three now. Watch this space!

Two more pages to add to the steadily growing collection! Another painted postcard for journalling on…
…created using acrylic paint, a stencil and acrylic ink. The black blots remind me of seahorses or maybe glow-worms. What do you think?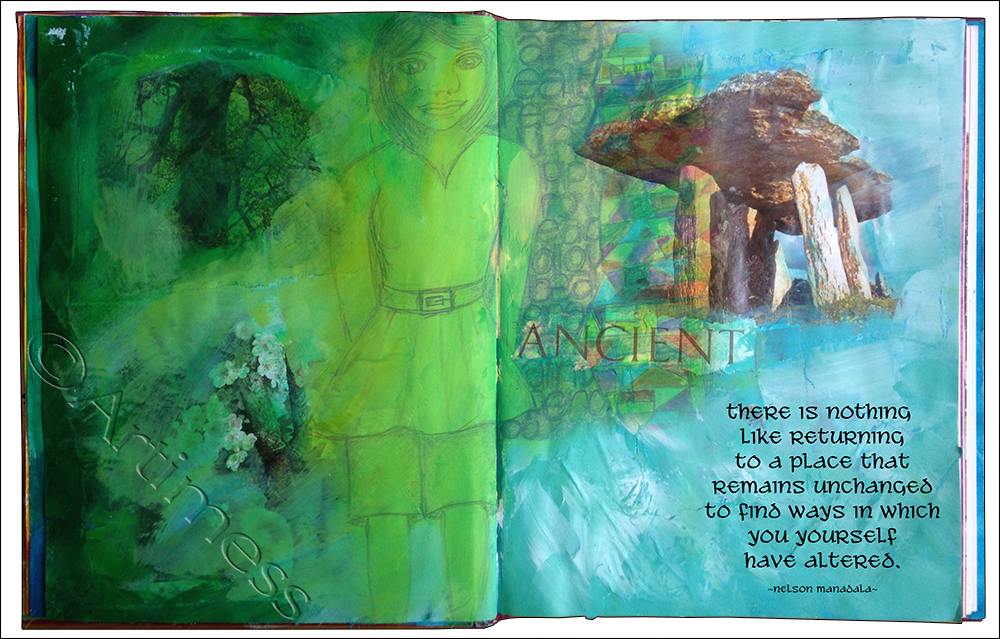 And another page in my recycled journal. This started out as a collage with acrylic paint. I added the scanned person doodle and blended her in, then chose and added the Nelson Mandala quotation using digital text.

Did I mention that I am becoming addicted to doll making? This one's taking a bit longer than the others have, and she's still not quite finished, but I thought you might like to see her anyway.
The pattern came from Elinor Peace Bailey's book Mother Plays With Dolls … and Finds an Important Key to Unlocking Creativity
. It's a generic pattern which can be adapted to make any number of variations – there are some amazing examples in the book. I stuck pretty much to the basic pattern, but wanted to add some wool hair. I searched online for some tutorials and finished up using a combination of these two tutorials: this one from Gillian Wynn Grimm at Dried Figs and Wooden Spools; and this one from Gillian Austin at Astableulah. I haven't decided whether to paint or embroider her face, and I may add some other bits and pieces while I'm at it, but I'll post another picture when she's finally finished.
In between playing with dolls, I've also been playing with paint.
I started off with some recycled cardboard and a double page spread from a newspaper, added some blobs of moulding paste then swirled them about. I added acrylic paint, acrylic ink and spray paint to the mix, then left it all to dry. But that wasn't the end! After scanning it I had to play digital blending…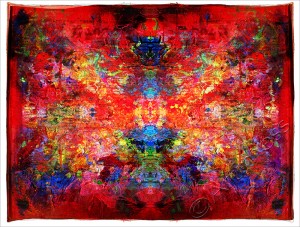 …I thought this one was quite nice, but then I thought I'd try inverting the colours…
…and came up with this which I rather like. What do you think?

In contrast to yesterday's post, and just to prove that I have been creating some of my more usual bright work, here are the latest two – digitally altered of course!!
This is my favourite – I love the softness of the colours and the textures which the tissue collage adds to the image. I created the collage using home made background papers, torn paint tissues, acrylic paint, stencils and some Krylon webbing spray. After photographing, I digitally altered the image using filters and blending.
This one is Bry's favourite – he loves the bright colours, and yes, it is meant to make your eyes go funny!. I created this using acrylic paint, stencils and Krylon webbing spray, then digitally altered it using filters and blending.
I've been playing digital with yesterdays images, but you'll have to wait till tomorrow to see what I've done to them!

Today I have been getting ready for a new start. Tomorrow I start my Art Psychotherapy Masters Degree! I was hoping to do some painting today, but last minute form filling and organisation took over leaving me just enough time for a little digital blending but not much else!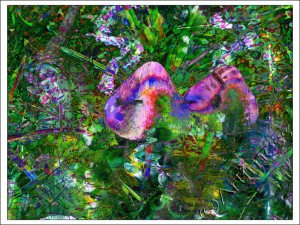 A little digital blending and some photo manipulation created these wonderful psychedelic magic mushrooms!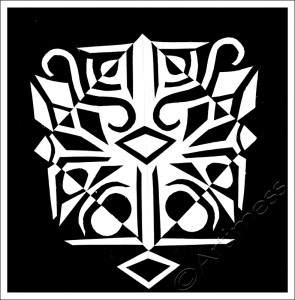 Yesterday I played with another Notan design. This one has lots of faces in it. How many can you see?

I'm finding this Notan quite addictive… so here's another one.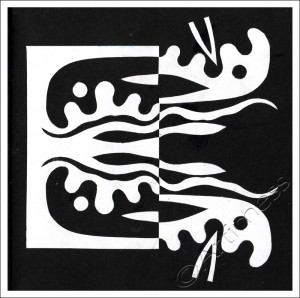 I cut this one a bit differently. Instead of folding the paper into four before cutting, I only folded it in half; and rearranged a couple of the pieces to break the symmetry. I wasn't sure which way up it should go, but I think I prefer it with the straight edge to the left. What do you think?
I'm still busy scanning some of the smaller cardboard pieces I created a while ago, so here's a couple more.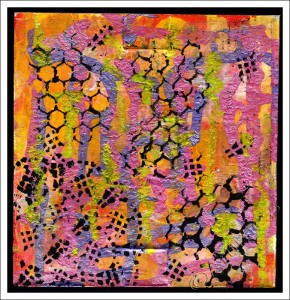 I created this piece on recycled cardboard using acrylic paint, acrylic ink, stencils and homemade stamps.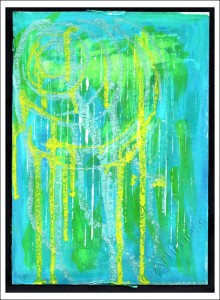 This is another piece on recycled cardboard created using acrylic paint and acrylic ink. But this one was calling to be blended…
…this is the result – quite dramatic, don't you think?

One of the problems I've had during the move is that I haven't had time to keep up with my daily blog reading list. I know I could have just marked my backlist as read and started again, but I'm glad I didn't or I might have missed this post from Karen Isaacson about Notan. What is Notan? It's a Japanese concept exploring the contrast between dark and light in relation to design. Maybe you've heard of it, but I certainly hadn't and Karen's post intrigued me. I went on a Google search to see what else I could find out. I found this lesson plan from Lotte Petricone very informative and was particularly intrigued by the idea of using the shapes asymmetrically.This article by Sharon Himes interested me with the parallels it drew to all art and design concepts.
But enough about the theory! As you must have guessed by now – I had to try it out!
This was my first attempt. I cut shapes out of a square of white paper then stuck them symmetrically round the square in exact reverse of their original cut out position.
This was my second attempt. This time I arranged the cut out shapes to reverse their original cut out position. I think I'm going to have a go at an asymmetrical arrangement next. Keep watching this space!

At Last, I have finally finished last weeks Life Book 2013 lesson!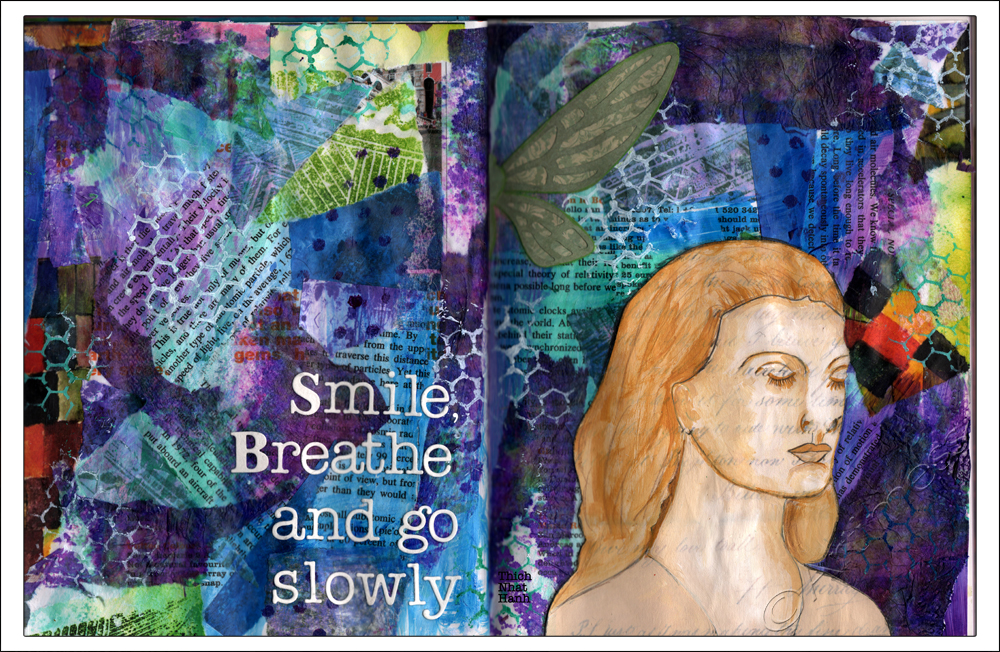 For the final touch I added the Thich Nhat Hanh quotation using die-cut letters.
Now I'm off to pack some more boxes!