Today I played digital blending as well as faces.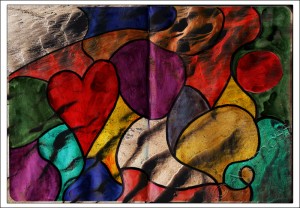 This started as an abstract created using Twinkling H2O's. Then I scanned it and played digital blending with a photo of sand patterns. This is the result.
Todays face got the works!
I was so determined she wouldn't have any strange paint marks today that I gessoed the page before I started! Then I had to draw her face on the gesso. I hate pencil drawing on gesso! – it smudges everywhere!Luckily the putty rubber does a good job of cleaning up! To stop further smudging I started off with an acrylic wash base, then coloured her face and hair using watercolour pencils. I added some background colour using Twinkling H2O's. I must admit – I'm quite pleased with the final result. What do you think?