Yesterday I got talked into trying out a new app on my iPad called Bamboo Paper. It's a notebook that you can paint and scribble in.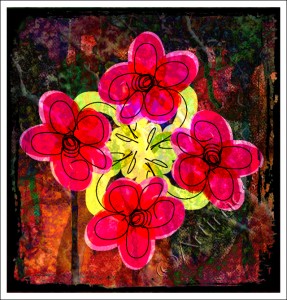 The first thing I wanted to know after I'd played around with the different tools and produced a few doodles was – "Can I export the images?" So I tried… and it let me email myself a .png file copy of the page I'd been working on. From there it was a simple matter of playing digital games to come up with today's image. I can see I'm going to have fun with this!

After yesterday's disaster I thought I'd keep things nice and simple today. I felt like playing with bright colours so I got my Inktense pencils out.
I created the flowers and the background using the Inktense pencils, then added some foliage using digital brushes after scanning it into the computer. I love the way the Inktense colours glow!

Today's piece underwent radical transformation in it's early stages. The first layer was a complete disaster – but it did add some texture to the piece.
It all started when I emptied my pencil sharpener and discovered amongst the wood shavings remnants of lots of beautiful colours of water soluble pencil lead. I had the bright idea that if I tipped them onto the page and added water, I would get a lovely rainbow effect. It didn't work – what I actually got was a dirty brown/grey sludge! So much for bright ideas!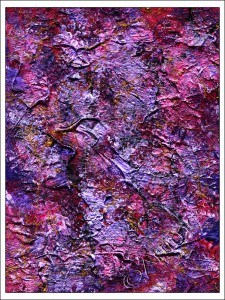 To cover up the mess, I added a thick and lumpy layer of gloss gel medium, then started adding layers of acrylic paint. The first paint layer was just added with a brush. Next I added some lines and shapes using a variety of implements including bubble wrap, old credit cards and bottle tops. The next layer was a black outline followed by a layer of coloured gel medium. Some more bubble wrap splodges followed finished off with a healthy dose of gold Krylon Webbing Spray.
I have no idea what I'll end up using it for, but I love the colours and the textures it has ended up with!

Following on from yesterday, I thought I'd create a background on glossy card using the distress ink pad and cling film technique.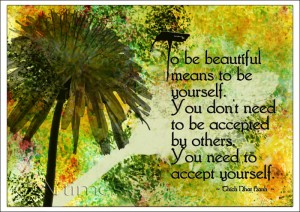 When I saw how it turned out, I decided to scan it, add some digital brushes which I created from a couple of my own photos and the Thich Nhat Hanh quotation.

Seeing all Leah's snow pictures last week got me thinking about snowflakes, which in turn inspired me to get some paper and scissors and start cutting! I know snowflakes are supposed to have six sides, but mine has eight – call it artistic license!
I coloured the background using Inktense pencils then cut the snowflake out of white paper and coloured it using distress ink pads applied with cling film. I stuck the snowflake to the background using gel medium then added more colour to the background using the same distress ink and cling film technique.
After I scanned it into the computer I started wondering what it would look like if I played digital blending games! You need to click on this one to look at it large.

Today I played catch up with my Life book 2012 classes. I completed Lesson 29 from Jodi Ohl. The lesson started with a positive letter to my younger self which I then tore up and used as the basis for the piece. For the next layer I added some printed tissue paper followed by a thin wash of white gesso. Then I stamped a border using home-made foam stamps and acrylic paint – messy!
When it was all dry I drew the face using pencil and coloured it using a mixture of acrylic paint, gesso, Inktense pencils, uniball pen and pencil. Finally I added a set of positive affirmations around the edge.
I had so much fun making this and found the personal development element very useful – thank you Jodi!

I'm still ploughing my way through my pile of leaf prints from the end of September. Today I decided to add a quotation using digital text to this one, and a bit of digital blending for good measure!
The original image had an acrylic paint background with acrylic paint leaf prints on top.

Today I felt like playing digital, so I started out with one of my leftover acrylic paint creations and a photograph I took showing the beautiful autumn leaf colours.
Then I played digital blending.
You really need to look at the big version to see the full effect of the final result, but I really like the result. Do you?

The other day I downloaded the latest free ebook from Cloth, Paper, Scissors magazine and was inspired by Lisa Engelbrecht to create this.
I hand drew the letters in pencil, then coloured them using Derwent Inktense pencils and outlined them using Stabilo point 88 pens. After I scanned the image into the computer, I tried out lots of different coloured backgrounds, but decided I preferred the original or plain black.
Which do you prefer?

Continuing on from yesterday, I thought I'd stay with the small size and doodle some zentangles. The inspiration for this came from the latest issue of Craft Stamper Magazine.
I created the border round the edges first, then stamped the mouse and text (very old freebies from a magazine), then filled the remaining space with doodles. I used my trusty Rotring Rapidograph pen for the doodling and a black Staz-on ink pad for the the stamping. I finished it off by colouring the mouse using neocolour crayons. I like the contrast the colour makes with the black and white of the doodles.